For more accurate and long-range targets, Nikon has introduces the latest technology-based rifle scope that is P-223 3-9 x40. The riflescope is the best addition in the field of magnification; especially for AR platform rifles with 0.223 cartridges.
The new P-223 version produces a more precise and clear image of the target at a longer distance. The device has been manufactured with advanced features of adjustment and magnifications.
The new device is simpler to mount and operate from a tactical point of view and has been manufactured by focusing on the requirement of a tactical environment. By using P-223 3-9 x 40 with Nikon Spot On Ballistic Match Technology aiming at the exact point has become very easy.
Feature of Nikon P-223 3-9×40 BDC 600
Nikon has manufactured this product with the latest features along with some previous features of the P-series of rifle scopes. New features are included to cope with the issues raised by the users in previous versions of the P series scopes. Here you will find the exclusive features of this product which show the affiliation and commitment of Nikon with the magnification field.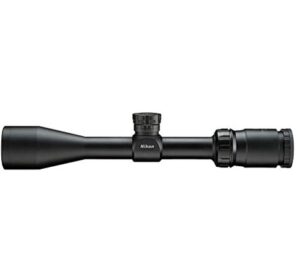 1. Nikon P-223 has been specially manufactured for the trajectory of NATO round with tip bullet (55-grain polymer). This unique feature of this device helps the user for circle aiming point and has been developed with hash marks from 100 to 600 yards that are best for precise shooting at long-range targets.
2. The Second feature of this device is a 1/4 MOA tactical-style hand turn rapid action turret with positive click adjustment that is helpful for quick aim adjustment.
3. This Nikon product is specially designed for AR rifles and has been made with guaranteed waterproofing dust-proofing and fog-proofing. So, the P-223 rifle scope is the best option for all-weather tactical missions.
4. P-223 (3-9×40 BDC 600) riflescope is manufactured with a fully multicoated optic that is responsible for 98% light transmission. Multicoated optical system provides a maximum light transmission with full brightness equally during bright sunlight and dim light during dawn and dusk.
5. This P-series product provides magnification from 3 to 9 times with a 40 mm object diameter that is best for accurate aiming at the target.
6. This product is light in weight (approximately 1.06 lbs) and best to carry with AR platform guns.
7. The most important feature of this product for a tactical point of view is a quick zero-reset turret with a spring-loaded adjustment knob. Simply lift the spring-loaded knob up and rotate to zero and reengage. This feature is helpful for the adjustment of subsequent ranges simply by dialing in. Additionally, this feature is best when using this device with sniper rifles.
8. The outer diameter of the eyepiece is 44mm which is sufficient to keep the eyebrow safe from the heavy ejection of cartridges. Moreover, the scope is best for heavy shooting with different angles.
Pros and Cons of Nikon P-223 BDC 600
Nikon P-223 3-9×40 BDC 600 vs Other Rifle Scopes – A comparative analysis
| Nikon P-223 AR rifle scope | Other rifle scopes |
| --- | --- |
| This Nikon product has been manufactured with thin but best-quality aluminum material. That is why the device is reliable and light in weight to mount on any heavy AR rifles. | Other rifles bearing the same configuration are comparatively heavy and hard to carry along with guns. |
| Nikon P-223 BDC 600 AR rifle scope is a very cheap product as compare to other products of the same configuration. The cost of this riflescope is over $150 (at amazon's online store). | Other rifle scopes of this category are comparatively costly. A Vortex Viper, almost with the same configuration as P-223 costs over $350.00. |
| Nikon has manufactured this product with a permanently lubricated adjustment turret. There is no need to use an additional lubricant to maintain the smooth functioning of the scope. | Most of the rifle scopes need frequent lubrication and they have a large manuals along with the product for guidelines regarding lubrication. |
| P-223 is a fully waterproof, fog proof and dustproof rifle scope; therefore it is best for all weather combat and hunting missions. | For most of the scopes, users complain about malfunctioning due to the entrance of water and dust but companies withdraw warranty for entry of water or dust in inner parts of the scope. |
How to mount Nikon P-223 correctly?
Like other products of Nikon, mounting of P-223 scope on a rifle is very simple and time-saving. The company always focuses to make the products simple and handy for common users. So, if you have a little bit of knowledge for mounting a scope on a rifle, you can easily install it on any compatible rifle.
Here is step by step guide for the installation of Nikon P-223 rifle scope that will help you to have a mounting idea before purchasing this device.
For all P-series rifle scopes of Nikon, two mounting rings/pieces are required to fix at AR rifles. If you have already mounting rings available with the previous version of the P-series scope, you can use it for mounting the P-223 scope as well. If you are using the rifle scope for the first time, just buy 02 x mounting rings from any trusted dealer of Nikon products.
First of all, install mounting pieces on the rifle slot; specially made for mounting a scope. Both the pieces must be fixed at an extreme position fit to the scope tube. Just measure the thin tube scope to get the mounting distance between both rings.
Tighten the rings with the help of a screwdriver or any other suitable instrument to immobilize at their position.
After fixing the mounting pieces, place the scope on these rings. Put the upper lob of ring pieces over the scope tube and tight with a screwdriver. No exertion is required to tighten the screws. Just tight enough to finish the play or forward-backward movement of the scope.
Precaution for mounting P-223 Rifle Scope
Although, the mounting procedure for P-series of Nikon products is simple and handy and everyone with little knowledge about rifles and scopes can mount easily; however some precautionary measure are necessary to mount the scope properly.
The following safety mounting measures will help you to save the device from any damage.
While mounting the scope on a rifle some users fix the mounting pieces with the device before installing on the rifle. This procedure needs unnecessary movements of twisting and turning of the scope which can damage the internal parts of the scope including straight tube and lenses. So, never fix the device with the rings first. Install the riflescope after fixing the rings on the rifle slots.
After entering the rings in the rifle slot, tighten them as much as possible to finish the front or back movement of the scope on the railing. This movement causes an unavoidable hurdle during your firing missions.
As you know that the riflescope is manufactured with thin layered aluminum material comparatively sensitive. While fixing on the rings just tighten the screws firmly and do not put extra force. Putting too much pressure on the ring lobs causes the heaviness of the tube of the scope.
While fixing the scope on a rifle never remove the lens lids as this may cause damage to the lens of the scope.
How to use Nikon P-223 Rifle Scope perfectly?
It is the unique quality of Nikon products that they are made very simple and handy for users. Even a new user having little idea about guns and rifle scopes can easily mount and use a Nikon rifle scope.
BDC 600 reticle setting helps you to aim at a longer distance with superior AR rifles. Use 100 yards parallax setting for accurate shooting at a longer distances. 100 yards parallax setting provides you with hash marks from 100 to 600 yards with circle aiming points.
For quick zero-in setting always use 1/4 MOA hand turn tactical style turret. MOA setting is helpful for quick zero-in, even after repeated recoils of the turret. For quick zero-in just pull the spring adjustment knob and leave on zero.
44mm diameter eyepiece of the riflescope also protects your eyes from recoiled cartridges. So, keep this function in your mind and hold the rifle in this way that the scope eyepiece must be in a position to save your eyes.
For a static firing mission using the BDC 600 reticle setting is recommended because after setting your target range, you can just focus on your target rather than changing and setting your target range again and again.
During the tactical and hunting missions, 1/4 MOA hand turn target range setting and the zero-in option is better because you can adjust your target range more quickly.
How to maintain Nikon P-223 AR rifle scope?
Keeping in view the usage of P-223, Nikon has made this product with reliable material but maintenance is necessary for keeping the scope serviceable. Moreover, cleanliness and maintenance ensure the proper functioning of the product. Here are some necessary measures that can help you to maintain your AR rifle scope.
1. General cleanliness of rifle scope: Although the device has been manufactured with guaranteed waterproofing and dust proofing. The product is all-weather and there is no chance of entering the water and dust in the inner parts of the scope.
Long-term dust and humidity can lead to rusting of the outer parts of the device. The rust, later on, can enter the inner parts and can affect the efficiency of the lens. It is recommended that once you have finished the mission; clean the scope thoroughly as per the given instructions.
2. Handling of Riflescope: As you know that the rifle scope consists of sensitive lenses. The lens can be damaged due to negligence and carelessness. You must keep in mind that you are operating your gun along with a sensitive aiming aid.
So, don't through the rifle on the ground just to make fun or to defuse your frustration. Your first step must be demounting of the scope after clearing the gun for live bullets. After demounting the rifle scope place a suitable place preferably in its own casing.
3. Riflescope Lens cleaning: Usually, the lens of the scope get scratched due to the application of an improper cleaning method. To maintain the efficiency of the lens always clean with gauze soaked in alcohol or lens cleaning paper (easily available in the market).
Cleaning with a normal cotton cloth such handkerchief may cause roughness of the lens surface that affects the visual efficiency of the lens.
4. External Cleaning of rifle scope: External cleanliness of the riflescope is helpful to maintain its brightness and grace. Nothing special is required for external cleaning but only soft and clean pieces of cloth to wipe out the dust and fingerprints caused by touching with oily hands.
Related Products:
Scope Cover
Keep your Leupold scope looking like new with this scope cover. Preserve its finish from dirt and damage. Available in many sizes to fit most Leupold scopes, the scope cover is made of water-resistant, nylon-laminated neoprene.
Safeguard your scope in storage space or in the field. The correct tool would make even the most challenging or tedious job easier. Insert the medium Leupold scope cover, which will keep your Leupold scope still looking new.
Vortex Optics Defender Flip Caps
Basically indestructible, the Vortex Optics Defender Flip Caps are the most versatile and robust on the market, these are the last flip caps you'll ever need. This is made in the USA.
A stainless steel spring flips the eyepiece into several stop positions: vertical position, 45 degrees, and also 90 degrees. The vertical position is for inserting your dope disk in to have convenient access while you are shooting.
High Accuracy Angle Cosine Indicator
This High Accuracy Angle Cosine Indicator helps the shooter to find proper eye relief. Cutting out the need to span from the receiver to your handguard.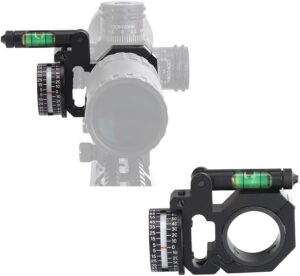 Exquisitely detailed Shooting: bubble level which can be flipped to the side also helps you to have an extra indicator to obtain much higher clarity.
FAQs
What is Nikon's policy for warranty claims?
I want to use this rifle scope for larger caliber rifles. Is it possible to mount this scope on such rifles?
I want to buy more than one Nikon scopes through amazon. Can I get a discount for the shipment of multiple items?
I want clarity on the return policy for P-223 rifle scope. Whether I can return the product, if not acceptable for me?
What is the Amazon policy for the return of items shipped free?
How can I get mounting rings for P-223 rifle scope?
I have ordered a Nikon P-223 more than 10 days ago but I did not receive it yet. How can I track my shipment?
Conclusion
The entire features, pros, and comparative analysis with other scopes prove that the P-223 is the best product at a low cost. The only single con that BDC dot is too small to focus on is noted but due to lack of experience for using this product.
According to experienced shooters' comments, the small dot provides more accuracy and pinpoint targeting. A multicoated lens with a clear visual field and crystal clear image is also a plus point for this Nikon product.
Being waterproof and dustproof, the device is more effective to use for sea missions of marines and desert combat missions. So, having a Nikon P-223 is ideal for combatants, hunters, and indulgers to enjoy trouble-free aiming and shooting.