Rifle scopes effectively serve as your eyes when you are on a hunting expedition, and what hunter doesn't want to have a crisp, clear view of their surroundings? Many people feel that choosing a high-quality scope for their rifle will result in a heavy price tag, but that's not always the case. Let's consider different types of rifle scopes and some of the key features to be on the lookout for when scouring the web, or your favorite brick and mortar outfitter, for the best rifle scope to suit your budget.
Types of Rifle Scopes
Compact Rifle Scope​
Most compact rifle scopes are lightweight, which makes them a great addition for large caliber rifles, smaller plinkers, or even pistols.
Having a compact rifle scope will make your weapon of choice infinitely easier to carry on long hunting trips.
Sniper/Long Range Rifle Scope
Sniper/Long Range Rifle Scope is a type of scope that is great for shooting targets from a great distance.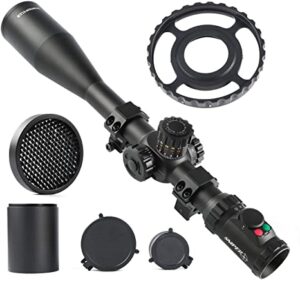 Targeting reticles are placed over the amplified image of the target to help you line up your shot. A finely tuned set of controls, called turrets, allow the shooter to make adjustments such as wind and elevation, to make it easier to zero your scope on a target.
Laser Rangefinder Rifle Scope
Laser Rangefinder Rifle Scope is a type of scope that is designed to help define the distance between you and the target.
Its innovative features clearly show how much space needs to be closed to hit the target.
Features to Consider when Choosing a Rifle Scope​
When you saved your hard-earned cash to spend on a new piece of glass, it is important to consider a few features before pulling the trigger, so to speak. One of the main points to consider should be your application. Will you be using your new scope for hunting, self-defense, or target practicing?
A scope can be useful for all of these purposes, but varying applications and geographic conditions could very well be deciding factors for your purchase. Sadly, many features that should be considered are often overlooked. What are some of the key features that should be considered when purchasing a new rifle scope?
1. Magnification​
Magnification is very important for any scope. Basically, there are two types of magnification for scopes: fixed and variable. Fixed magnification scopes only have a single magnification level, so they cannot be adjusted to zoom in or out.
They tend to be a bit less expensive, and the images are often more clear in fixed magnification scopes because there are fewer lenses to look through. Variable magnification scopes have the ability to see an image at a multitude of magnification levels, which may allow you to acquire a target from a greater distance.
​2. Reticle
​The reticle is often referred to as a crosshair and is the feature that helps you aim and may even determine the distance between you and your target. A reticle can be a simple crosshair, a small dot, or a combination of crosshairs and dots that makes targeting quickly an easier task. The reticle can also come in different colors, so it is important for you to find a combination that will allow you to aim and fire quickly.
​3. Light Transmission
The lens of any rifle scope is also a very important feature that should be considered. A large objective lens, and exit pupil, will generally result in better light transmission; of course, there are other factors that play into the scope's overall light transmissions, such as lens quality, coatings, and condition. The maximum amount of light transmission on any scope is 98 percent, but the average amount of light transmission you want to look for in a rifle scope is at least 90 to 95 percent.
4. Eye Relief
Eye relief is the maximum distance you can have between your eye and the scope. It is important to make sure a new scope has an eye relief that will accommodate both the shooter and the rifle being used. Good eye relief for any rifle scope is between three and a half to four inches.
5. Parallax
Parallax compensation system is a feature that allows the reticle to stay on the target, even if your head moves slightly away from the scope. Parallax error is typically found in higher magnification scopes, as most scopes are manufactured to be in focus at 100 yards. In scopes made for long-range use, a parallax compensation adjustment may be present, and useful for making sure you are on target. Parallax can be a bit confusing for newer shooters, and although this feature can be very helpful, don't let it be a deciding factor if you aren't planning to do a lot of long-range shooting.
6. Field of View​
The field of view of many scopes is a predetermined number, so make sure that fits your needs. Essentially, the field of view of a rifle scope is the measure of "how wide of a scene can be viewed through this scope".
7. Adjustment Systems​
There are always other factors that come into play when shooting a rifle, like the amount of wind on any given day. The most common adjustments are made in the minutes of angle (MOA) with ¼ inch adjustment increments.
Finding the right scope for you can be difficult, so we've done the legwork for you and compiled a list of scopes that we recommend as the best rifle scopes, all while remaining on a budget. The list includes the pros and cons of each as well as a few videos about some of the scopes.
Top 5 Best Rifle Scopes on the Market
1. Leupold Rifle Scope
For generations, Leupold Optics has provided quality scopes for the discerning huntsman.
The Leupold VX-3i 3.5-10x40mm Riflescope continues this proud tradition. Probably producing the clearest, most accurate sighting on this list, this scope is constructed with quality optics in mind. This scope provides a crisp, vivid image at all levels of magnification, which is perfect for targeting the game at a greater distance. This scope has a price point that is around 200 dollars, which is very reasonable for this well-rounded scope.
Things We Liked
The glass is incredibly clear. Images at any magnification appear vivid, with minimal blurring
There is no color distortion for this scope.
This is one of the most accurate scopes on our list with a nearly uncompromising accuracy in the 1.55-inch range.
Things We Didn't Like
It has a short eye relief. For maximum accuracy, your eye has to be very close to the scope.
Lens coatings sometimes fail and unfortunately, to repair this model's lens coating, you can expect to spend almost as much as the original cost of the scope.
This scope doesn't have many extra features, save for the signature Leupold golden circle.
2. Nikon ProStaff Rifle Scope
View finding has been the science that Nikon has specialized in for decades. This scope is one of the most well-rounded scopes on our list, which makes it great for viewing your target while it's on the move or standing still.
What this scope saves you in dollars, isn't sacrificed in quality. In fact, I would even describe it as a tank-like product. I've read a handful of war stories on the web, many of which depict this scope as being incredibly tough and withstanding drops, dings, and falls that would offset the zero of many other scopes. The Nikon ProStaff 3-9 x 40 Black Matte Rifle Scope is a high-quality scope, especially considering its under 200 dollar price tag.
Things We Liked
This scope has a Lifetime Warranty, which is a particularly useful feature that I wish I had on a few other scopes.
This scope is also very durable, with a solid construction designed to last.
This scope, like other Nikon scopes, also comes with the Spot on Online Ballistics Software, which helps owners of this scope get the most accuracy out of the product.
Things We Didn't Like
There is a tendency to blur at full zoom with this scope. Blurriness can also be exhibited at lower ranges, which often occurs between 50-75 yards.
This scope comes with a bungee-style lens cover; where a flip cover would be an easier to use cover for most shooters.
This scope also possesses a relatively unforgiving eye relief of 3.6 inches.
3. Bushnell Rifle Scope
With Bushnell AR Optics FFP Illuminated BTR-1 BDC Reticle AR-223 Rifle Scope, 1-4x 24mm, functionality is a key feature that any shooter seeks when looking for a quality rifle scope. Produced by the optics company Bushnell, this scope is sturdily constructed and can easily meet the needs of any shooter, regardless of experience.
To top it off, this scope can be purchased for less than 300 dollars, which doesn't force you to take out a second mortgage just to place it on your rifle. One feature that I really love using is the illuminated reticle that is present on this scope and great for early morning hunting.
Things We Liked
This scope features a first focal plane reticle, which allows the user to maintain reticle calibration regardless of magnification.
This scope is great for low-light situations.
The sight reticle changes size with the magnification.
Things We Didn't Like
This scope is heavy because of the mechanisms which help maintain illumination and advanced sighting.
Resetting the rather large turrets on the scope requires the utilization of an Allen wrench to loosen three separate screws.
Also of note, this scope is not covered by Bushnell's "Bullet Proof" warranty.
4. UTG Rifle Scope
This is the lowest-priced scope on this list, but fortunately, you don't lose a lot of quality even with its slimmer price tag. This scope is well built, which may come as a surprise after seeing the nearly one hundred dollar price tag.
UTG 4-16X44 30mm Scope, AO, 36-color Mil-dot  may not be the best scope out there for taking a massive bull from a nearby mountainside, but it's an excellent option for target shooting.
Things We Liked
This scope takes less than five minutes to mount in place.
This scope is incredibly inexpensive. In fact, the price range is close to the 100 dollar mark.
This scope includes two lens covers that flip upwards, a well-built design that is more than adequate to protect the glass.
Things We Didn't Like
Windage and elevation features work great and lock in place when you zero; however, the clicks are somewhat "spongey" and hard to hear, which could make adjustments difficult.
The focus wheel is extremely stiff on this scope.
A good bit of clarity is lost at 12 percent zoom.
5. Nikon Rifle Scope
The second Nikon scope on this list also boasts the same level of quality that has come to be expected from this brand. Due to the spring-loaded instant zero-reset turrets, this is the easiest scope to adjust on our list, which makes it a perfect accessory for fast-moving targets. It's been said to be nearly dead-on, straight out of the box.
As with most of the scopes on our list, this one has a price point of fewer than 300 dollars, which makes Nikon P-223 BDC 600 Rifle Scope with Rapid Action Turret, Black, 4-12×40 a great, affordable choice.
Things We Liked
This scope has easy zeroing, which allows easy adjustments to be made and assures that the scope tracks accurately.
The reticle changes from black to amber when focused on objects that are in dim surroundings.
Things We Didn't Like
This particular model may come with a known factory flaw that causes it to tilt two to three degrees to the left.
The reticle is so fine that sometimes it's hard to find the crosshairs in low light conditions.
Out of the five rifle scopes reviewed here, the Leupold VX-1 3-9×40 Waterproof Rifle Scope with a matte black finish is our pick for the best hunting rifle scope on a budget. It's a very well-rounded scope that has almost no blurriness when zoomed in. It has quality glass, sturdy construction, and a very reasonable price point—under 200 hundred dollars as of this article. Quality is not sacrificed with this scope, so many of the same features that are desired in high-end rifle scopes are found in this scope as well.
​Purchasing a rifle scope that is within a certain budget without sacrificing the quality of the scope can be a daunting, yet important task for a lot of hunters. The features that make a rifle scope a quality enhancement to your hunting rifle are not considerations to take lightly. A scope without these key features will not perform like it should in the field, hopefully, our research and review will help you choose the best rifle scope for your needs.