Shooting for hunting a whitetail is very easy if you know how to shoot. However, there are many factors that will affect your shooting. Sometimes, your long-time experience, skill, and accuracy can't give you the proper way to shoot. In fact, the situation will also affect shooting, and this will always provide you a good or bad direction.
This is really important to understand, what extremes conditions like temperature, altitude, and humidity affect shooting? Today, we are here to discuss those extreme situations that affect your shooting. When you have an idea about those extremes, you can easily deal with the situation and take a decision accordingly.
Extreme Cold
This is very tough to deal with low temperatures, especially for the young and teenage hunters. This is really harmful and sometimes, crazy to hunt at below 10-degree temperature.
However, hunting in the cold season is a very good option if you are in North America, looking for elk or deer to hunt. In this case, you will need to degrease all the parts of your rifle and ammunition properly. Otherwise, you can't get properly worked rifles for hunting. However, the crucial of the rifles and ammunition will depend on the cold temperature.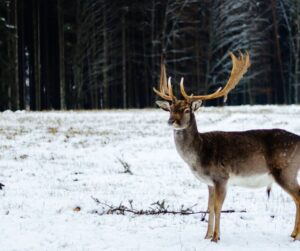 Most of the rifle becomes lack function when it towards zero. In this case, using bolt hunting rifles is the best way for hunting. Most of the time, the rifles are very easy to degrease and do not need lubricant to work properly. You will need to strip it down after you remove the bolt. If you can't do it, you will need to degreasing solvent.
Soaking the AR rifles are very easy, but other rifles are very difficult to fix them. You will need to finish the soak the rifles in order to avoid any type of damage of the rifles.
You should put a strip of tape over the muzzle of the rifle in order to keep it good. Otherwise, snow could damage the muzzle for giving you accuracy. Moreover, the temperature will affect the rifle's cartridge and its distance of shooing. For that reason, you will need to know the proper science, the more temperature, the more drop-down after shooing.
Effect of Heat
Heat temperature is the exact opposite result of the extreme cold effects. Therefore, you will always need to keep the situation in mind in order to get proper shooting power. The temperature will affect 0.5 to 1.0 MOA for every 20 degrees of warmer situation. As a result, the propellant powder will also become warmer and increase the effect of the point of impact.
You may not get enough chance to measure the temperature or check the rifle when you are going or in the hunting field. You will need a suitable place where you can fix your place for sitting and waiting for the animal.
When you are going hotter place from a colder atmosphere, you will not face rifle functioning problems. However, heat creates another problem for your rifles. Therefore, you will need to know the heat and its impact on your rifle. When you are in extreme heat conditions, you should not fully loaded rifle with you for hunting.
In fact, you should always keep it under-loaded in heat conditions. Overloaded will make the bullets warmer and this will cause serious problems. In this case, keep the ammunition under a shade in order to have good accuracy level. Make a shade in order to avoid the sunlight on your ammunition. Otherwise, the ammunition will become too hot to touch and reload your rifle.
Altitude
You must understand the effect of altitude on your shooting. The thin air will keep your bullet up and heavy air will down the bullet. For that reason, you will need to understand the concept properly before you are going for hunting.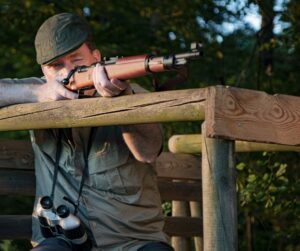 There is no consistent accuracy level of altitude for shooing. The difference is measured for per 5,000 feet and you can expect from 0.5 to 1.00 MOA scale. For that reason, this is important to use a gadget that will provide you accurate information regarding this.
You should not compromise the altitude effect because an inch difference can make you a loser of the day. For that reason, check the altitude of the rifle in order to get more accuracy. Usually, there is no recommended data for the hunters, because this depends on the rifle, air density, and other factors. However, at sea level shooting, the bullet goes 2.5 inches high at 100 yards shooting distance for low altitude level.
Humidity
Many shooters are confused about the humidity and its effect concept. New shooters think that the density of the humidity air is more than dry air. However, this is not a true concept, because moisture in the air is less density than dry air. Therefore, your rifle point will go higher in this case,
Shooting at 100 yards distance with zero does not have any big impact for the shooters. But, 400 yards distance is really a problem for the hunters. Then, you will need to know the impacts of the humidity that may vary to 0.5 MOA.
Conclusion
There is no specific rule for shooting in different extreme weathers, humidity, and altitude conditions. You will need to practice a lot, take your rifle and ammunition to the distance for shooting. You should not avoid any type of tips and tricks, like don't keep ammunition in the sunlight for extreme heat.
That's enough for a hunter because you will not have enough time for measuring the temperature and other conditions when you will look at a target ahead of you. You will just take your rifle, aim at it and hunt it with your rifle. These are only basic requirements for going to extremes cold hot and other factors. Remember that practicing in different conditions with your rifle will teach you a lot, and then normal basics can. So, take your rifle and go for your destination so that you can get rid of the adverse conditions.