For some hunters, the idea of carrying along with a pair of binoculars just seems like overkill. After all, when you're already spending time and money for licenses and permits, weapons, ammo, and all the other things you absolutely must-have for the hunt, why complicate things by searching for the best binoculars for hunting?
Here's the deal. If you enjoy staring at obscure objects for long periods of time in hopes that they might be game, rather than brush, there's no need to bring along binoculars.
If you have no interest in determining the size and quality of a distant animal before it's time to shoot, you shouldn't need them either.
Also, if you get a thrill from searching endlessly for your downed prey and don't like making things easy for yourself, then, by all means, forget to bring along binoculars.
If, on the other hand, you can see the benefit of magnifying your vision to prevent wasted energy and lost time, chances are you'll eventually join the ranks of hunters who consider their binoculars to be almost as critical to their hunting enjoyment as their weapons are.
The 5 Best Binoculars For Hunting On The Market
Not All Binoculars Are Created Equal
If you've ever shopped for binoculars, you've likely discovered that it's not just a matter of picking out a cool pair that isn't too expensive.
Binocular strengths and functions vary every bit as much as weapon strengths and purposes, and you really need to know what you're looking for before you ever start shopping.
In general, the most important factors that will determine which kind of binoculars you need are: what time of day you hunt and what your surroundings will be.
For daytime hunting, you'll be fine using compact, lightweight binoculars.
For dim light hunting, you'll need larger binoculars that offer greater lighting.
For hunting in flat or unwooded areas, you'll appreciate high magnification.
For hunting in wooded or brushy areas, you'll prefer a lower magnification.
How to Decipher All the Numbers
If you're like many people, you may take a look at all the technical specs and feel totally overwhelmed. Which is better? 10×50? 7×35? Which number is more valuable, and will one cost me more than another?
Really, it isn't as complicated as it seems. Here, allow us to help:
The first number you'll see tells you how many times the view will be magnified. A 7x or 8x magnification is perfect for most woodland hunters, while a larger magnification like 10x will be better for hunters in open areas where trees won't obstruct the view and prey isn't as likely to be lost amid brush.
The second number deals with the size of the objective lens – that's the big lens at the front of the binoculars. The larger this lens is, the more light will be allowed into the binoculars. While this really doesn't affect the magnification of the view, it can make a huge difference in your ability to see in dim light.
Since larger objective lenses obviously require larger binoculars, if you plan to do much hunting early in the morning or late in the evening, you'll want to steer clear of compact binoculars to ensure you'll have enough light to see through the lenses.
Eye relief
Not to be mistaken for some kind of spiffy cure for sore eyes, "eye relief" deals with the physical proximity from the outermost curve of your eye to the eyepiece lens. While this is a feature that most often affects those who wear glasses, it's important to at least be aware that binoculars are designed to be held at a certain distance from your eyes.
While most binoculars range from 14mm-20mm eye relief, most people don't have the ability to measure exactly how far their pupil is from the eyepiece. Still, it's very easy to tell if you're holding the binoculars too close or too far—you simply won't be getting a clear view that fills the lenses.
When you are too close to the eyepiece, the perfect circle of magnified vision will be obstructed at the edge by a shifting crescent of shadow as you look around. If you see this, simply pull back from the binoculars or adjust the eyecups so that they rest against your face comfortably without cutting out part of the view.
If you are too far from the eyepiece, you'll see a fading, or vignetting, of the edge of the view. Where you should have a sharp circle of vision, you'll see a fuzz that grows the further back you pull.
Most binoculars are equipped with soft eyecups to compensate for the eye relief distance. If you wear glasses, chances are you won't need the eyecups at all, but you can just let the distance from your glasses to your eyes make up for the eye relief proximity.
Other Factors in Binocular Function
While magnification and lighting are by far the most important elements in choosing your binoculars, there are several other factors that can definitely impact the quality of your vision when you're hunting using binoculars.
Stability of view
Although many people assume that higher magnification is always better, the truth is that higher magnifications come with some serious drawbacks. Not only do they restrict the field of view so that you can see a much smaller area, albeit at a farther distance; they also result in very unsteady vision.
Every twitch and tremor is magnified much greater with high magnification binoculars, so unless you have a very steady hand or a very handy tripod, you'll want to limit the magnification you choose for your hunting binoculars – even if you have money to burn. Again, this is a case of quality over quantity. Sure, the idea of an insane magnification is cool, until you try and focus on something that is moving—or even something that is still while you're swaying in the nice light breeze of your tree stand.
Center resolution
Depending on the quality of your binoculars, the center resolution or clarity of your view will vary dramatically. Of course, this is much less of a problem for binoculars than it is for cameras, where every detail matters.
For hunting purposes, it's not such a big deal if your binoculars can't get the perfect detail of that distant cardinal's plumage; just so you can see that the buck up ahead really is a fourteen-pointer.
Field curvature
This is a quirk of certain binoculars that may or may not matter to you, but for some cheaper binoculars, lines and objects may appear curved and distorted at the edges of the picture. Higher-end optics tend to eliminate this problem, but depending on how much you have to spend and how picky you are, this distortion may not be worth worrying over.
Edge sharpness
Since the lenses of binoculars are curved, it's important to understand that only the center of the view will be seen in clear focus. Still, the higher quality your binoculars, the more likely it will be that the sharp focus extends to more than just dead center. You get what you pay for, but there are extremes on both ends of that spectrum—trying to find the warm happy place in the middle is what we're here to help you with.
Brightness and contrast
The higher-grade your lenses, the better brightness and contrast you can expect from your binoculars. This can make a difference in autumn when so many colors are similar, or for folks who are colorblind. Being able to clearly pick out nuances in the field of view can be a great advantage.
Chromatic aberration
Although it really has nothing to do with your ability to see your prey, you should know that lower-end optics can distort the values of your subjects and cast them in slightly untrue colors. Again, for many hunters this probably isn't worth the much higher price tags that more reliable optics provide; still, it's a good thing to be aware of before you make your selection—if nothing else you're now a more informed buyer.
Color tone
For those who really want to get picky, it should be noted that some binoculars can cast a warm or cool tone to the picture. Really, though, this isn't usually a big deal to most hunters, and unless you plan to use your binoculars for more than just hunting, it's hardly worth noting.
Outdoorhill Recommendations for Hunting Binoculars
With so many differences in binocular strengths and qualities, deciding to buy a pair of binoculars is only the first step toward maximizing your hunting experience. Here are some helpful reviews to show you a few of the best binoculars for hunting on the market.
Bushnell Binoculars
Specification: 10×42
Cost: $200-$400
Color: Realtree Camo
Weight: 1.57 lb.
If you're looking for a quality pair of binoculars perfect for wide-open spaces, chances are you'll enjoy the many features of the Bushnell Legend Ultra HD Roof Prism Binoculars. With high magnification, they're perfect for spotting that solitary mountain chamois or that herd of Arctic muskox on the wide Alaskan tundra.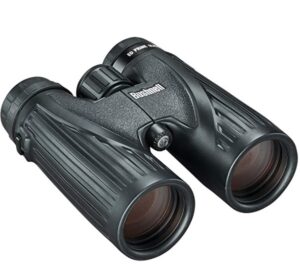 Things We Liked
Adjustable dual focus if your eyes have a slightly different vision
Smoothly rotating center focus knob
Includes sturdy carrying case, easily disconnected neck strap, cleaning cloth, custom binocular harness, and microfiber storage bag
Excellent image quality
Waterproof/fogproof
Lightweight
Company guaranteed
Things We Didn't Like
Objective lens covers are easy to lose
Carrying case is bulky
There's plenty to love about the Bushnell Legend Ultra HD Roof Prism Binoculars. Of course, they wouldn't be the best suited for Eastern whitetail hunting, especially when 10x magnification will afford you nothing but a closeup view of a single tree trunk. In a case like that, you'd be much better served with the next pair of high-end binoculars.
---
Nikon Binoculars
Specification: 8×42
Cost: $300-$350
Color: Black
Weight: 1.34 lb.
For hunters who desire clarity and high-quality optics, the Nikon 7576 MONARCH5 Binoculars are a great choice. With its wide field of view and excellent lighting specifications, it's a great choice for deer hunters who spend a lot of time in the woods, often in low-light situations.
Things We Liked
Lightweight design
Excellent field of view
Comfortable eye relief
Permanently attached lens covers
Sharp, brilliant image quality
Crisp focus adjustment
Waterproof/fogproof
Things We Didn't Like
Eyepiece caps fall off easily
Soft case doesn't protect binoculars from moisture or falls
For hunters who aren't that concerned with pinching pennies, the Nikon 7576 MONARCH5 Binoculars offer top-of-the-line precision and image quality without completely breaking the bank. Of course, for hunters who prefer to pass on some of the high definition to keep their hunting habit within their budget, the next couple of binoculars may fit the bill even better.
---
Nikon Aculon A211 Binoculars
Specification: 10×50
Cost: $90-$120
Color: Black
Weight: 2 lbs.
For hunters who are looking for affordable binoculars that get the job done, the Nikon Aculon A211 Binoculars are an outstanding choice. Although the image quality isn't at the level of some of the higher-priced optics, many hunters will be perfectly satisfied by the completely acceptable image clarity of this affordable design.
Things We Didn't Like
Not fogproof or waterproof
Slight chromatic aberration
Some curvature of field when not in perfect focus
With its 10x magnification, it's important to remember that the Nikon Aculon A211 Binoculars are better suited for wide-open spaces than for tree stands and turkey blinds. Also, the lighting for these binoculars won't be as great as it would be with the next pair of binoculars.
---
Celestron Binoculars
Specification: 7×50
Cost: $35-$40
Color: Black
Weight: 2 lbs.
Perfect for deer hunters or anyone else who needs a wide field of view and plenty of low-light visibility, the Celestron 71198 Cometron Binoculars offer adequate magnification at a great price. Not only are these great hunting binoculars, but they also work well for stargazing on the way back to the truck with your harvested deer.
Things We Liked
Crisp, clear images
Impressive, wide field of view
Strong light-gathering capabilities
Multi-coated optics offer excellent contrast and resolution for the money
Sturdy aluminum housing
Quite affordable
Minimal shakiness
Things We Didn't Like
Less magnification
No tripod connection
Occasionally, double vision may occur if binoculars are not aligned properly
If you're looking for affordable binoculars that work well with shaky hands, dim lighting, and obstructed views, the Celestron 71198 Cometron Binoculars are an excellent choice. If, on the other hand, you would do better using a smaller, more compact pair of binoculars, check out the next review.
---
Bushnell Compact Roof Prism Binoculars
Specification: 8×25
Cost: $40-$70
Color: Black
Weight: 0.75 lb.
Sometimes it makes sense to keep things simple. For hunters who prefer a pair of binoculars that can fit on their belt loops, the Bushnell H2O Waterproof/Fogproof Compact Roof Prism Binoculars combine quality optics, convenient portability, and affordability in one lightweight package. They'd be great for turkey hunters or others who don't need low-light capabilities; with the smaller objective lens size, these are much better suited to daytime use.
Things We Didn't Like
Slight chromatic aberration
Small case requires you to fold them down while carrying them, requiring you to readjust focus each time
Less lighting capacity
For daytime hunters who appreciate the convenience, these Bushnell H2O Waterproof/Fogproof Compact Roof Prism Binoculars are a great buy.
---
Related Products: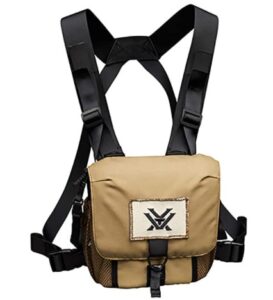 Housing your binoculars using this Binocular Harness keeps them safe from the elements while trying to keep them close at hand is essential when you are in the field. The vortex glass pak binocular harness will do just that. It fits several full-size binoculars, yet keeps them snug and secure the mesh edge pockets hold calls, a lens pen, and other compact objects needing quick access.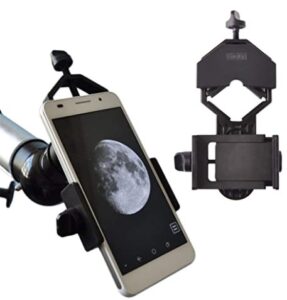 Get Your mobile phone into a video camera and take images in distance. Discover the nature of the world easily through your mobile screen. Here comes Gosky Cell Phone Adapter Mount for optical devices.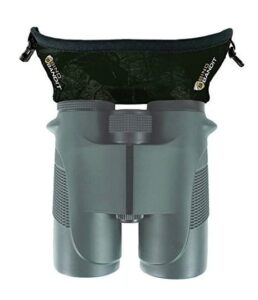 Bino Bandit will fit all binoculars. Blocks Glare, Improves Visual Acuity is made to be comfy, they are engineered to flex fit around the eye-cups, sealing out wind and normal light. To use the Bino Bandit, just stretch out the flexible neoprene around each eyepiece and tighten down for a excellent fit.
The Very Best Binoculars for Hunting of Them All
Although it's clear that all binoculars are better suited for some purposes than they are for others, the best all-around binoculars, in our opinion, are the Celestron 71198 Cometron Binoculars. While it's true that they don't provide near the magnification that some of the others do, we think that the 7×50 specifications allow for the greatest flexibility.
These binoculars offer great visibility whether it's light or dark.
The low magnification means that shakiness and loss of the intended subject is much less likely.
These binoculars are an excellent deal.
The field of view is superb, making it much easier to find your subject and keep it in view.
They're great for more than just hunting. Stargazers and birdwatchers in the family will also enjoy these binoculars whenever you're willing to share.
We hope you've learned something new about how binoculars work, and on top of that, we hope you'll be confident when decided which binoculars are right for you. Whatever optics you choose, we know you'll remember to view the great outdoors with respect, awe, and gratitude. Happy hunting!