Let's face it, as much as we'd love to, we simply can't spend every waking minute of our lives in the woods hunting. There are plenty of instances where we're lucky enough to be in the right place at the right time, and we take that trophy animal or get an awesome story to share back at camp. But what about those times we aren't in the woods at all, let alone the right place? For those scenarios, we need a little electronic help—a trail camera.
To increase your presence in your hunting area, you can deploy a handy trail camera to scribe away the goings-on you miss while you're off at the kids' soccer games, working, or picking up that gallon of milk you forgot to get on your shopping trip.
You want a quality camera that you aren't scared to leave out in the elements for days, weeks, or months on end. That being said, you aren't looking to sell off the family vehicle just to spy on Bambi—so you'll be doing some research to decide what is available, and what best suits your budget. Here, we've done the hard part already—lucky you!
In this article, we'll talk about the trail camera (also referred to as a game camera) market. After reading this, you'll be able to decide exactly which camera will be custom-tailored to your needs, budget, and hunting area.
The 5 Best Hunting Trail Cameras On The Market
What is a Trail Camera?
A trail camera, also known as a game camera, is used to take photographs of animals and scenes after being deployed in the woods. Trail cameras are used to capture close-up photos and videos of wildlife remotely and avoiding the risk of scaring wildlife or getting a personal injury while in the field. On top of that, a game camera allows you to be in the woods without actually being in the woods. Setting up a camera over an area that your buddy tells you is "full of deer", may end up proving your buddy wrong—and leading to you finding a new place to hunt—or a new buddy.
Many cameras now are equipped with infrared lights, which cast a beam of light that is invisible to humans and animals, but provides light that the camera itself can process—which means you are able to collect photos of passers-by even in the dark of night.​
Trail Camera Features
When shopping for a trail camera, you'll want to keep in mind the features that are available. This will allow you to compare any model to your own wish list of features until you narrow your options down to the cameras that suit you and your needs best.
Storage
Today's game cameras will offer a variety of storage options, and there are instances where the exact type of storage can make a significant difference. Game cameras typically store their photos and videos on SD cards, the SD means Secure Digital, which is a standard form of digital storage. Not all SD cards are created equal; in fact, there are a handful of different formats available in the SD card market—and of course—not all cameras accept all types of SD cards. It's like the guys who invent electronics get together every year and think of ways to screw with the minds of people who aren't on the bleeding edge of technology. Anyways, here's a basic rundown of the types of SD cards you'll be faced with:
SD – Secure Digital:

this is your standard (used in older models) SD card. SD has a maximum capacity of 2 gigabytes (2GB).

MiniSD and microSD

refers to a smaller format that uses the same standard for storage and speeds—typically these are used in mobile phones and cameras. miniSD and microSD cards can be placed into an adapter for use in a standard sized SD card slot.
SDHC – Secure Digital High Capacity

: the same size as a standard SD card, although SDHC supports card capacity up to 32 gigabytes (32GB)
SDXC

– Secure Digital eXtended Capacity is just like the big brother to the previously mentioned SD formats, and adds larger capacity. The SDXC can hold a maximum of 2 terabytes (2TB) which is 2000GB.
Most modern cameras will support the use of SDHC, and even SDXC cards—but it is important to know exactly which type of card your camera supports, or you will be extremely disappointed when you go to collect your photos. I had just this situation happen to me.
I set out with two hunting buddies to create a triangular zone of camera coverage—each of us deploying a camera of our own. We created our small perimeter of photo coverage where we intended to put our tree stands in the coming weeks. Before splitting up and going home, we tested the cameras—they all worked. Good for us—or so I thought.
A day later, one of the groups (no need to mention names) decided he would go check the cameras so he could share the pictures with rest of us. He didn't bother checking to see which card belonged to which camera when he re-deployed them into the woods, and we wound up having one camera go blind because it was unable to write to the SDHC card put inside it. Lesson learned, get the right card for your camera—or get new buddies.​
Night Vision
You can't see at night, but thanks toeons evolution, most animals can. No, they don't see a brilliant glowing green like the military's night-vision goggles allows our soldiers to see—but the animal eye reflects light to allow the critters to see exponentially better than we humans do. Your game camera may have infrared flash it can use to take photos at night—which is a feature you'll most likely be interested in if you're trying to track that trophy buck.
Video
With the advent of larger format memory cards, many cameras are now equipped to film HD (720p) video. This may be a feature you're interested in, especially if you have been seeing some false positives on your camera, meaning the camera is snapping photos when it detects motion—but you don't see an animal.
A brief video of the scene may show what set the camera off. It's also nice to see the animals you plan to hunt moving in their natural habitat—a few out-of-context photos can be helpful, sure, but a video of them in their natural element is nearly priceless.
What are the Advantages of Trail Cameras?
Know your target:

Trail cameras give you an advantage in seeing game before hunting it. Trail cameras give you a chance to understand the natural habitats of the animals without disturbing them.
Get to know the animals' habits:

Setting up your trail camera helps to gather information on animal habits. You'll easily learn which animals pass through your spot, and the frequency at which they pass as well.
Get to know the area:

Reviewing your photos and videos captured by a trail camera will let you know if that exact spot is a hotbed for animal activity, or if you'd better hunt a new area.
Keep it mobile:

As the season's change, so do animal habits. You can easily strap your trail camera to a tree for a pre-rut reconnaissance, then move it for the rut, and even to the post-rut location to keep up with the whitetails in your area.
Things to consider when choosing the best trail cameras
Cost:

The best trail camera doesn't necessarily need to be the most expensive. It entirely depends on your needs, and what it can accomplish for you. A less expensive trail camera that is loaded up with reliable features may be all you need.
Durability:

You should consider the camera's lifetime. A reliable trail camera is one that last for many seasons without wear and tear. Things like memory cards and batteries are a slight operating expense—but you don't want to replace your camera every season.
Camera Trigger Speed:

Snapping a photo of an animal who is grazing over food isn't much of a challenge for a camera. For example, if you are planning to hang it over a food source, the camera's trigger speed will not factor when making a purchase. If you're trying to snap a few photos, or even a video, of that monster buck who has been sighted all over your area—a camera with a quick trigger speed may be needed to catch a glimpse of the behemoth as he passes by.
Recovery time:

Simply put, this is the amount of time the camera needs in order to be ready for subsequent shots. Cameras that have a quick recovery time could be the difference between seeing the hindquarter of a deer—or seeing a handful of stunning images.
Battery Life Impacts Time:

As we mentioned above, you can't be in the woods 24/7, but your camera can. It's of no use to you if the batteries are dead. When buying a trail camera, find one that has a battery life coinciding with how often you plan to be in the woods to check the memory and refresh the batteries
Night Range:

This is the distance your camera's flash is capable of capturing when snapping photos at night. Always keep in mind that environmental conditions such as clouds and rain may affect the camera's accuracy.
Memory:

The camera you choose should accept an SD memory card to store the photos that you intend to take. If you are planning to take a plethora of pictures, you should choose a memory card with high capacity such as an SDHC card. Remember not all cards are created equal—be sure your camera supports the type of card you buy. You may even want to have two cards on hand, they aren't very expensive, and having one in the camera as well as a spare to put into the camera when you take one out may prove to be worth spending some extra cash
Camera Design:

Cameras come in so many shapes and sizes that you may end up with too many options to even consider—try this: decide where you want the camera to be placed and take a photo of the exact tree you wish to put the camera on. Compare the tree and background of the photo to the camouflage patterns available and make your choice that way
Cellular Compatibility:

A trail camera that is cellular compatible (typically 3G) enables you to transmit the images through a cellular network. These cameras have the greatest flexibility since they can be used anywhere. You won't be out in the woods swapping memory cards very often—since the photos can be accessed remotely
Date and Time Stamp:

If you want to document the events of your hunting, you should consider trail cameras that document both the date and time that the shot was taken. Note: some cameras reset the date and time when the batteries die—if accurate logging is desired for your photos, be certain to keep a close eye on this feature.
Video Recording:

Some of the latest trail cameras for hunting come with advanced video capture functions. These cameras record videos of different lengths from few seconds to minutes.
5 Best Hunting Trail Cameras for Your Budget
If you are planning to acquire a brand new trail camera from Amazon, the best advice is to narrow your search by deciding which features you want most. We have scoured the web for you, and put together a list of the five best options for getting extra eyes in the woods without using up your entire budget—you still need to buy some ammo for the season after all.
Reconyx Hyperfire
The Reconyx Hyperfire is a highly sought-after camera. Boasting excellent battery life and an HD IRTM lens that records clear and sharp images, the Reconyx Hyperfire is a powerful trail camera that will offer exquisite photos for many years to come.
A feature we really like in this camera is the infrared range—coupled with the snappy trigger speed—you'll be grabbing pictures of Bigfoot any time, day or night. Ok, we can't promise you'll end up with photographic proof of Bigfoot trudging around your hunting area, but we can promise you won't get photographic proof of any wildlife in your area without deploying a trail camera.
Back on subject, the Reconyx Hyperfire has 0.70-second trigger speed, 4 second recovery time, and a 100-foot detection range.​
A few more features of ReconyxHyperFire HC500 include night detection up to 50 feet, 6 or 12 AA-size batteries can be used, exceptional battery life, rugged weatherproof enclosure, 1080p HD images, and an Ultra HD IRTM camera lens.
Because of the exclusive Ultra HD IR™ camera lens, the camera is best suited for hunters who want high-quality images in the daytime and night. It provides images that are clearer and sharper than many other cameras on the market.
The camera is a bit expensive when you compare it to other models. But if you are looking for a high-quality trail camera, to take some crystal clear images day or night—the Reconyx Hyperfire is certainly a contender.​
Things We Liked
Provide nighttime flash without startling the animals.
The camera makes shots of up to 50 feet for night shots.
Superb lens quality leads to excellent photo quality
Its Digital Memory Card supports HD footage
Temperature range of -20F to 120F
Two battery options which enable the camera run for long without losing power
Comes with BuckViewTM Advanced software for your PC
Things We Didn't Like
The warranty covers just 1 year
IR is only considered semi-covert
The camera is a bit expensive
---
Moultrie Bundle Trail
Moultrie is a name that is synonymous with quality trail cameras. Chances are if you've spent time researching or using trail cameras, you've seen Moultire's name plastered on dozens of fine products like Moultrie Bundle Trail.
The whole idea behind having a camera is to put eyes in the woods when you can't physically be there—the Moultrie Game Spy A-5 will not only do that for you, but it will do it on the cheap.
While we often preach the adage "you get what you pay for", we also appreciate a good buy when we see one.
The Game Spy A-5 is the epitome of a good buy. As of this article, the price tag is a mere $59 on Amazon, and with a 4 of 5-star review average—it's clear that this is a quality product that has brought a smile to the face of many hunters.​
Being a budget option, this particular Moultrie camera will be sacrificing slightly on some features, but at such a great price point we would be lying if we didn't say there was a ton of value here. The resolution is 5MP with a 40-foot detection range and up to a 50-foot flash range. This means you'll be collecting photos of critters up to 50 feet away with a resolution of 2560×1920. It can be easy to get sucked into megapixel hell and think you need a camera that boasts a massive MP feature, but the fact is this: your HD TV or computer monitor most likely has a maximum resolution of 1920×1080, which translates to 2MP. Taking photos higher than 2560×1920 isn't necessarily a benefit unless of course, you plan on editing HD images on a computer with the images taken from your game camera.
Things We Liked
High-resolution 5MP camera
Trigger speed less than 1.5 seconds
The Gen2 variant of this product has a burst mode to collect more than one image in a row
Excellent price vs. performance ratio
This new variant (Gen2) has been rebuild from the ground up
Green color to blend with its surroundings
Battery life will last up to 16,000 images
Uses (8) AA batteries as opposed to C-cells required in older models
Easy to use control panels
Things We Didn't Like
Has a smaller night range of up to 50 feet
40 foot detection range
Lack of HD video recording
---
Stealth Cam No-Glo Trail Game Camera
So you want to have an extra set of eyes in the woods? How about four extra sets? That's right. Stealth Cam's G42NG bundle nets you four cameras for quite literally the price of one top-shelf camera.
The G42NG is advertised as a No Glo trail camera that houses 42 "black" IR emitters on the front. These dark emitters don't glow, and won't tip off the local animal population that you've set up surveillance in their area of operations.
The 100-foot range on the IR, coupled with it's .5 second reflex trigger means you'll be grabbing photos quickly, day or night.​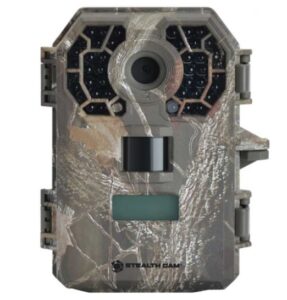 A 10-megapixel maximum resolution allows you to take very high-quality photos, but we all know how much space you can use. Stealth Cam No-Glo Trail Game Camera has gone ahead and included 8MP, 4MP, and 2MP settings as well—for users who utilize smaller memory cards—or who would like to use less space on photos and more on the HD video and audio G42NG will capture.
Things We Liked
2-10MP settings
Four cameras in a single bundle
100ft range on the "black" IR Emitters makes for quality night shots
Secure Lock password protection keeps your data safe
SDHC compatibility (up to 32GB memory cards supported)
HD Video & Audio with the time-lapse function
Intuitive menus make the cameras user friendly
Things We Didn't Like
As expensive as a single high end trail camera
You'll be using four times the batteries and need 4x the SD cards
Setup will be done four times
---
Bushnell Trophy Cam Trail Camera
When spending money on hunting equipment, hunters like to rely on a brand they recognize and trust. Bushnell is a leading manufacturer in hunting equipment and brings that reputation to the trail camera market as well.
The Bushnell Trophy Cam Trail Camera features an 8MP camera with night vision and 32 LED's for flash photography and IR.
The field-scan option allows you to pre-program the camera to take photos at set intervals, which may prove quite useful for finding out if there are animals in your hunting spot during the hours you plan to hunt.​
Things We Liked
8MP camera with night vision
Trusted name brand
Up to one year of battery life
SDHC 32GB compatible
45-foot motion-activated sensor and flash range
Captures up to 60 seconds of video (with audio)
Camouflage pattern keeps it concealed
Three shot burst photo mode makes photographing game easier
Things We Didn't Like
•with any device left in the woods it's vulnerable to theft
45-foot range may not cover your hunting spot
Batteries may dislodge upon moderate impact
---
Exodus Trail Cams
The Exodus Lift is a new trail camera on the market today. This camera is manufactured by Exodus Trail Cams. If you are looking for a camera that can last for decades, the Exodus Lift Trail Cam is an awesome choice.
This camera is best suited for people who are planning to hunt in the cold. You can use the battery for a long but still, the camera runs strong.
If you are looking for a relatively affordable camera with good features, The Exodus Lift – 12mp Trail Cam is the best trail camera you can consider.​
Things We Liked
Running on long life batteries for thousands of photos
Good daytime pictures as high as 12 megapixels
1080p video with sound
Built-in color viewer
Has a high capacity storage of up to32GB
Password protected camera so only owners and authorized users can use your camera
Comes with a 1-year warranty completely supported by money-back guarantee
Top part of the camera permanently sealed to prevent water leakage.
Can swing to bottom allowing users to two over-sized latches when trying to maintain pressure getting into the unit
Parts designed with rugged plastic shell and aluminum-alloy bracing that enhances stability
Customizable Video Length
Camera is durable
Customizable Operating Hours
Things We Didn't Like
Camera will not take photos if the password is not entered
Night time photos are not clear enough
Difficultness when removing memory card
Rechargeable battery which goes dry after a few hours
---
Final Thoughts
As you can see from the market research above, you will need to be careful when it comes to choosing the best trail camera for you. Some trail cameras are more user-friendly compared to others, others require more technical knowledge to operate. Some cameras may be available in this year's latest and greats camouflage pattern—while others may have a look you aren't particularly fond of. We get it, you want to be satisfied with the look of your fancy new gadget. Just try to keep in mind the practical side of the camera, and pick one that best suits your needs.
From the information above, the Stealth Cam G42NG bundle claims the coveted position as Outdoorhill's most recommended trail camera. The resolution settings of 2-10MP allow the user a wide range of photo quality, as well as allowing you to fine-tune how much of your precious storage is chewed up with each subsequent photo.
Add in the 100ft range of the blacked-out IR emitters, and the 180 seconds of HD video (with audio) you can record, and these puppies really are the best option to maximize your outdoor presence. You can't be in four places at once, but the Stealth Cams can certainly make it possible.
The price tag of $459 places this bundle into the range of many very high-end game cameras, and in a one-on-one comparison, you may find that the Stealth Cams don't perform quite as well as a single top-notch trail camera, but we're all about making your dollar go a long way.
We want to see you become the best hunter you can, and having four extra sets of eyes in the woods seems like an incredible advantage. With SDHC compatibility (up to 32GB) and secure lock password protection on the devices, you'll truly be the commander of your hunting spot. This bundle fulfills all the things that buyers should consider when choosing the best trail camera: good camera recovery time, good lens, long night range, video recording, and plenty of memory.​