In order for the .308 rifle to get near-perfect results, there's a rifle accessory that you just can't do without:
The correct and best .308 rifle scope… especially if shooting long range.
Unfortunately, finding that 'best' scope for a .308 isn't easy to do.
That is why I have created this list for you to find the Best Scope for a .308 Hunting Rifle.
Top 4 Best .308 Scopes
Vortex Diamondback HP 4-16x42mm
Leupold VX-2 3-9x40mm
Nikon Buckmasters II 3-9x40mm
Vortex Crossfire II AO 6-18-44mm
I've spent a lot of time researching and testing a lot of different optics for a .308 carbine and have been able to narrow down the list to the top 4 best 308 scopes which you can buy right now. Seen here and can be purchased on Amazon:
UUQ Tactical 4X32 Compact .223 .308 Scope Rangefinder Reticle/w Ring Mounts
 
Best Rifle Scopes for .308 in 2018 – Top 4
These scopes may not be for everyone as some of them carry a higher price tag.
With that said, these rifle scopes are good enough to make our list of the Top 4 best rifle scopes for a .308 to buy in 2018, and for good reason. Below are my .308 scope recommendations
Vortex Optics Diamondback HP – Best .308 Rifle Scope
The Diamondback Tactical First Focal Plane 4-16×44 .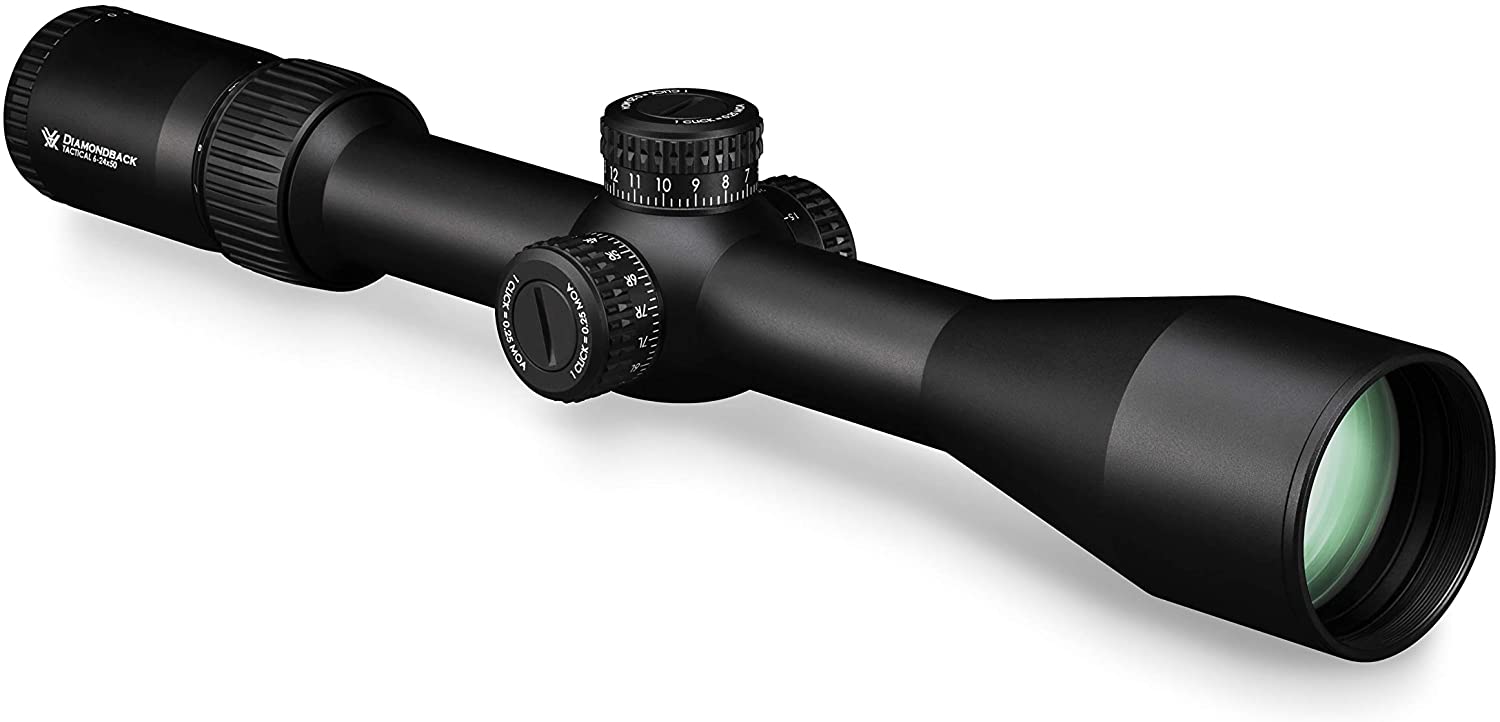 The Vortex Diamondback High Performance offers clear glass throughout the magnification range in front of its durable and rugged design.
The scope has the side parallax adjustment which is a bonus at the price range.
It comes with a healthy 4" eye relief which is very comfortable and relatively easy to sight in.
Vortex is known for building quality scopes at various price ranges and this is no exception. This is really the best vortex scope for a 308.
Another bonus with buying a Vortex optic is that it comes with one of the best warranties included.
Unlimited Lifetime Warranty
Fully Transferable
No warranty card to fill out
No receipt needed to hang on to
While reviewing this scope I looked to see if it would let me shoot at a long distance and would not break the bank so I mounted this scope on my .308, went out to the range to test the scope there, and then headed out on a 4-day hunting excursion in the backcountry with a buddy.
Happy to report that between all the rounds I put through it at the range beforehand and during the hunt, it held perfectly zero. I also noticed that the scope never fogged up at all, which has been the case for me sometimes with other more expensive brands.
I shot about 60 rounds at the range and was really happy as it was very clear and lets in a lot of light, something that I always look for in my scopes. even in the shade it did a great job.
I also really liked the side AO and zooming from 4 to 16 was very very smooth. See the best prices on Amazon
Overall I was pleasantly surprised by this scope. It comes with  BDC reticle, something that is a must for me when hunting because I don't have time to mess with the elevation adjustments in the field.
And I especially like this scope's BDC reticle because I like the hash marks instead of circles that sometimes come on other BDC reticles (such as with Nikon).
The glass was my favorite feature and a rifle is only as good as the piece of glass it's wearing (referring to its rifle scope).
This Vortex is currently selling with a sunshade and lens cover, however it doesn't come with scope rings. Make sure you don't cheap out – buy quality scope rings.
In short, the Vortex Diamondback HP is the perfect and best .308 rifle scope for the money. It is a clear high quality scope that is worth every penny when you only get one shot.
Pros about the Vortex Optics Diamonback Scope.

 Unconditional Lifetime Warranty
 Super high quality for the price.
 Very clear glass and sometimes more clear than other scopes from quality brands.
Cons about the Vortex Optics Diamonback Scope.
A draw back to this scope is that it is pretty heavy (2 lbs) when compared to other rifle scopes for mobility. It's not something I would ever want to mount for a tactical use.
It also isn't the best scope to take in the brush, sometimes it would have a hard time focusing.
 Be aware of the heavy weight.
 Has a hard time focusing in certain environments, such as the brush.

---

Leupold VX-2 3-9x40mm

One of my favorite rifle scopes, the Leupold VX built by one of the industry's most trusted brands is Leupold's VX-2 Scope.

If you want a quality scope and one of the best .308 scopes that will withstand all the abuse that you can throw at it while maintaining zero, this is my recommendation.

With solid reviews from hunters and shooters alike, Leupold continues to impress with this product.

The VX-2 is light, exceptionally clear, and does not fog up easily. It comes with finger click adjustable turrets which are convenient.

You can't beat Leupold Scope for the price. With this scope and after sighting it in using the proper techniques, I was consistently shooting sub-MOA out to 300 yards and MOA at 400 yards. Although I typically don't shoot above 400 yards (my average deer shot is 200-250 yards), it sure is nice knowing that this scope allows me to have that extra reach.

It has a sleek design and low profile and the clarity is really really great.

At the range, sighting in the scope was pretty easy and took me only a few round to get a 1″ grouping.

I always love using these scope reviews​ to get me out there to hunt, and so of course, that's what I did.

I found an 8 point buck at around 150 yards​ at dusk, 10 min to sundown and the picture was still very bright. Needless to say, I got him. For the money, it did the job.

When comparing this to the Leupold Scope HP, this Leupold almost won. There were a few things that almost made me choose the Leupold over the Vortex as the best .308 rifle scope:

Weight is much lighter than the Diamondback HP, weighing in at a little under 1 lb!
Seemed to be a little more crisp around the edges
Eye relief felt a little more forgiving than the Vortex Diamondback HP

​Overall the Leupold is a great optic and is particularly a great rifle scope for a .308 if you are a hunter.

It was close on my list to take the top spot​, but in the end, the Vortex Diamondback HP took the lead as I felt the glass was just slightly better (barely) and Ifavor the Vortex BDC reticles.

Regardless, the Leupold is one of the best scopes for a .308 hunting rifle and really one of the best Leupold scopes for a 308.

In short, the Leupold VX-2 is the perfect and best .308 rifle scope for hunters. You will hit your target at most long ranges and the glass is extremely clear. Your investment in this scope will stand the test of time as its durability is one of its top features.

Pros about the Leupold VX Scope.


 Lifetime Warranty
 Extremely durable and will last years.
 Very clear picture and great quality glass.
 Considered the standard in hunting and for good reason.

Cons about the Leupold VX Scope


The only downside is that the adjustments may not hold up to continued use. Many shooters like to dial-in adjustments for varying reasons instead of holding over or under. Leupold Scope on Amazon

---

Nikon Buckmasters II 3-9x40mm


Nikon, an optics industry leader, teamed up with Buck Masters to produce this high quality and extremely durable riflescope.

If you are looking for a tough, all water-proof scope for your 308, this is a great option.

It features Nikon's brighter anti-reflective system of multi coated lenses which provides ample light transmission and optical clarity.

The quality image and consistent viewing throughout the magnification range is standard with all Nikon scopes.

The Nikon Buckmasters is the perfect rifle scope for someone who is looking for the best .308 scope for $100.

It used to be its midline between the Prostaff and Monarch, but now the Buckmaster is now considered an entry level line for Nikon.

I tested it out on my 30-06 first and loved it. So I had to try it for the .308.

As I was testing the Nikon Buckmasters II 3-9x40mm the first thing I noticed was how bright the glass was. It seems ultra bright when compared to glass from other optics.

And I have to admit, I dropped my rifle a 3 times pretty hard off of the shooting bench, (I was clumsy that day) and it didn't move zero at all. That was definitely impressive since most scopes closer to $100 will lose zero in these cases.

And to be honest, this would be a great scope if it was closer to $200, but even better value considering that it is closer to $100!

The scope was very easy to install and zero at the range.

Overall, for a .308 rifle scope under $200, this Nikon Buckmaster is a great scope. It is not a high dollar scope, but it does not need to be for a rifle that goes in the woods.

If you are a low maintenance hunter, all your scope needs to be is accurate and able to stay on zero. Both of which this scope does!

It gets decent enough light collection at dusk, but it is not a night vision scope. It got blurry for me 5 min before sunset. Nikon Buckmasters II 3-9x40mm

Pros about the Nikon Scope.

 Nikon Lifetime Warranty
 Very bright glass.
 It's nice to be able to use the Nikon app.
 Surprisingly holds zero for a cheaper scope.

Cons about the Nikon Scope

A drawback to this scope is that it is pretty blurry at 30 yards or less at 3x. So it's strictly a long-range rifle scope nothing more.

 Issues with focus at anything under 30 yards at 3x.
 Eye relief not very forgiving.

---

Vortex Optics Crossfire II 6-18×44 AO

The Vortex Crossfire 2 is known for featuring a higher standard as compared to other riflescopes in its class.

With an exceptional magnification range, this scope is perfect on a .308 for long range shots and at the range.

I was particularly impressed with how clear the image was at 18x magnification.


If you don't want to spend an arm and a leg but looking for a quality long distance scope, the Vortex Crossfire is right for you. My son was amazed with how accurate he could group at 150 yards on his 308.

And for a .308 scope under $200​, you can't go wrong with this one.

Again, another rifle scope from Vortex means that you get their amazing lifetime warranty. Really this warranty is awesome.

As I tested the scope out at the range I was blown away by how well it's built! I usually feel this way about Vortex optics but for some reason the Crossfire felt strong and durable.

After I got it zero'd I was very happy with my shot groupings. At 100 yards I had no problem finding the bullseye and it looked like I was standing 10 ft away! I even convinced another shooter at the range to get one as well as he was super impressed.

So, I decided to go take it deer hunting. Looking through the BDC reticle was great. I spotted a dear pretty just under 200 yards. That's usually farther than i like as I'm not the most accurate shooter (which is why I love a good rifle scope). The crosshairs were very fine so it was easy to see the deer.

And I dropped it on the first shot!

I knew I would have success as this scope truly made me look like a better shooter than I really am.

Why didn't I include other Popular .308 rifle scopes on my top 4 list?

---

Lots of people are wondering why I didn't include some of the other .308 rifle scopes like the Nikon M-308 4-16×42 or the Trijicon ACOG 3×32 on my Top 4 list? After reviewing them, the answer is simple.