Whether it's your first time to go hunting with grandpa or it's your first time taking your grandson to your favorite hunting spot, all hunters – novice and expert alike – agree quickly that one of the most important pieces of gear you'll need is a pair of quality hunting boots. No one is perfect, and even the best hunters sometimes show up with the wrong gear. Having inadequate, or otherwise inappropriate boots can be the beginning of a story that ends in icy toes—or even a trip to the hospital.
Quality Hunting Boots: More Than Just an Afterthought
Whether you're the type to spend your hunting hours high in a tree stand waiting for that trophy buck, or sloshing through all manner of undergrowth with your dogs who are pursuing that coon, the last thing you need to be concerned with is the quality, comfort, or dependability of your hunting boots.
Have you ever worn your slippers outside to get the mail, or chase your beloved family dog across the yard for digging in the garden for the seventh time that week? Maybe you've got a pair of sandals you love to wear, but you've been caught out in the rain a few times and had to rush to your car to crank the heater on your feet. Having the wrong footwear for the occasion is never a comfortable experience, and you don't want to experience this out in the woods.
Every bit as important as which weapon you choose to carry, a properly chosen pair of hunting boots can prevent your dream from turning into a nightmare. Unfortunately, since there are so many different potential hunting situations, it's impossible to pick a hunting boot that meets the demands of every conceivable hunting scenario. Instead, it's important you understand which type of boot is the most desirable for your unique circumstances. Here are four of the most important things you should consider as you shop for your ideal hunting boots.
Cold Weather Hunting: It's All About the Insulation
Whether you're blessed to live in the temperate beauty of Tennessee or you're a hardy Northerner roughing it in the cold stretches bordering Canada, there's no getting around the fact that leaving your feet unprotected in the dead of winter is asking for trouble. No matter how great a hunter you may be, you're bound to be tempted to give up hunting after a bout of frostbite threatens your ability to walk.
Although uninsulated boots can be retrofitted with some snug innersoles, for serious hunters who plan to spend a great deal of the winter months outdoors, it's hard to beat the careful design of some of the best-insulated hunting boots.
Before purchasing any pair of boots, especially insulated boots, it's important to remember that boots must be purchased with plenty of room for heavy hunting socks. If you go shopping for boots wearing thin casual or sports socks and forget that you'll be wearing much thicker socks on your hunt, chances are your boots will fit tighter than you remember once you're bundled up to head out into the field.
Warm Weather Hunting: It's All About the Comfort
It's amazing how quickly we can forget about the wintertime necessity for warm, thickly insulated boots when we wear those same heavy boots in the heat of the summer. When the threat of heatstroke is a very real concern and you still have miles of terrain to cover, the last thing you need to be considering is whether or not you should take off your weighty boots and just go barefoot.
Depending on the terrain, an uninsulated boot can double as everyday footgear in many cases. If you do most of your hunting in the warm months and only rarely go out in the winter, you might be able to get by with just a pair of uninsulated boots and some quality insoles for the wintertime.
In the safety department, hunters who find themselves out and about in snake country may be concerned with preventing lethal attacks from reptiles. It's important to calculate what risks you may encounter in the woods so you can choose your gear accordingly.
Rocky Terrain Hunting: It's All About the Support
If you plan to do much hunting in the mountains or over rocky terrain, it's crucial you get appropriate footwear. When much of your time will be spent traversing the rough country with sharp stones cutting into the front of your boots, you'll be thankful you took the time to search for a boot that's as tough as you are, and is designed to withstand this hellish environment.
Mountain boots are specially designed with inflexible soles that will support your entire weight, even when all you have is a toehold. Many designs offer sharp edges that can help bite into soft dirt, giving you support that you'd never achieve with boots with rounded soles. Mountain boots also may provide a strong rubber front that keeps rocks from chewing through the tops of the leather boots.
When selecting mountain boots, not only is it important to remember that you'll need to leave room for socks; you'll also need to remember to leave plenty of space for your toes. As you climb up rocks and then go down again, the last thing you'll want is blisters caused by too-snug boots.
Swampland Hunting: It's All About the Waterproofing
For hunters who know that part of their valuable outdoor time will be spent sloshing through streams and swamps, a good pair of muck boots can make all the difference in the world. If you fit into this category, you'll greatly benefit from the waterproof protection of these tall boots that you can tuck your pants into and not have to worry about weighing yourself down by taking on water.
Many of these waterproof boots reach higher than your knees, and hip waders are also a great option for hunters who never know exactly how deep the water may be where they find themselves. Take my friend, the one who found himself blindly chasing his coon hounds into a manure lagoon – he was thanking God for hip waders, and his wife was too when he got home to tell her the story.
Another different spin on swampland hunting is the Vietnam War-style jungle boots. Although these boots will allow your feet to get wet, they also dry quickly and offer excellent support and slip resistance. Other marshland hunters appreciate the protection of snake boots, which are durable enough to protect your feet from snakebites.
5 Best Hunting Boots on the Market
Kamik Men's Boot
For hunters who are looking for well-insulated waterproof boots that don't succumb to the cold of winter, Kamik Men's Nationplus Boot can offer exceptional protection.
Cost: Affordable
Things We Liked
Easy on, easy off fit
Can be paired with ultra-heavy socks for even the coldest conditions
The wider top allows you to tuck in the pants leg
Moisture-wicking lining keeps feet warm and dry
The rust-proof speed-lacing system keeps laces in good condition
Rubber sole prevents slippage
Quality leather construction
200B Thinsulate keeps boots toasty without weighing them down
Leather-and-Rubber upper feature prevents boots from taking in moisture; also protects leather
10″ shaft keeps leg warm even in deep snow
Things We Didn't Like
As the lining compresses, the sizing of the boots may be affected
Sole is quite thin; an additional liner may be needed to add to the comfort and increase the warmth
Sizes tend to run on the small side, especially when you add heavy socks
For most hunters, the Kamik Nationplus Boot offers excellent cold protection at a moderate price. Since these boots aren't strictly hunting boots, they can double as everyday wear for those living in the far northern climates.
---
Danner Pronghorn Hunting Boot
Hunters who are looking for lightweight, breathable, comfortable hunting boots that offer excellent support, and dependable traction, may find Danner Pronghorn Hunting Boot a rugged choice that offers all-around versatility.
Cost: Moderate to Expensive
Things We Liked
Full-grain CamoHide leather construction allows these to function attractively anywhere, not just in the woods
Nylon shank keeps feet cool
Three-density Ortholite footbed offers comfort for the long haul
Gore-Tex membrane offers waterproof breathability
Pronghorn outsole provides excellent traction
Wide toe allows for foot swelling after hours of hiking
Paired with heavy socks and/or insulated innersoles, these can make fine winter boots
Loop in the back makes them easy to pull on
Sole is sewn tightly into the leather, making for a strong seal
Things We Didn't Like
Imported
Toe and sole can be stiff and unyielding
Can be a bit difficult to break-in
The Danner Pronghorn Hunting Boots are a great choice for hunters who understand the need for lightweight comfort. While these boots may take some time to break in for some people, the durable nature of these boots offers confidence for hunters planning to traverse rather a difficult terrain. For those planning to cover long distances on foot, the Danner Pronghorn was designed to make footwear a nonissue.
---
Kenetrek Hunting Boots
If you plan to spend much time hunting on rocky slopes, Kenetrek Mountain Extreme Hunting Boots offers excellent support and stability. Unlike other types of hunting, mountain hunts often require you to carry heavy loads over craggy terrain, and it's vital that your footgear is up to the challenge. These boots are designed to provide heavy-duty endurance, and although they may be a bit too heavy duty to wear to work every day, they're perfect for dominating dangerous climbs.
Cost: A bit on the pricey side​
Things We Liked
Leather, with reinforced rubber sole and rubber upper to protect the leather from abrasions
7 mm nylon midsoles offer crucial support, reinforced by steel shanks
Waterproof boots don't sacrifice breathability; Wind-tex flexible membrane keeps things comfortable
Minimal front stitching keeps boots strong even after heavy climbing and rough abrasions
2.8 mm full grain leather uppers provide one-piece waterproof protection
Things We Didn't Like
Arch can seem a bit high at first
The boots are not insulated, so keep that in mind in cold climates
The heels can rub if your foot fits a bit snug
Like most mountain boots, the soles are very inflexible
Although the Kenetrek Mountain Extreme Hunting Boots are probably not suited for everyday wear, they are hard to beat for mountain deer hunting. With their tough, rugged design that's ready for the roughest hike, these boots offer excellent support and strength.
---
Assuming you're going to be spending more time tromping through the waterways than sitting in a tree stand, these Bog Classic Break Up Boots offer excellent waterproof protection, even if they aren't the warmest boots on the market. For hunters who live in warmer climates, the fact that these boots are uninsulated is a big plus.
​Cost: Affordable​
Things We Liked
Rubber boots
Realtree, Mossy Oak, or Mossy Oak New Breakup camouflage
Knee-high design keep your legs high and dry, even in deeper water
Four-way stretch inner bootie helps keep your foot secure
16″ boot opening
1" Heel with excellent tread design
Things We Didn't Like
Imported
Not designed for upland or tree stand use
Uninsulated; without extremely heavy socks, won't be good in freezing temperatures
For hunters who never know where the hunt will take them, it's always a good idea to have a pair of waterproof rubber boots in the truck – just in case. The waterproof protection of these Bogs Classic High Boots can make all the difference in the world between coming home exhausted with muddy pants, shriveled toes, and soaked socks—and coming home exhilarated, thinking only of the excitement of the hunt.
---
If you hunt in an area where snakes are thick, you'll have a hard time finding a better boot than the LaCrosse Adder Scent 18 HD Snake Boot. Saving your life isn't usually what boot manufacturers are considering, but these snake boots are designed to do just that by withstanding the lethal bite from most snakes.
Not only are these boots great for preventing these snake bites; they are also excellent as all-around boots. Their height helps keep you comfortable and dry, and the Mossy Oak camo pattern, scent protection, and easy-on fit make these boots desirable for any hunter.
Cost: Moderate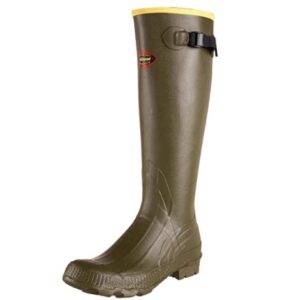 Things We Liked
Leather and fabric construction
Easy to pull on using handles
Knee-high boots
The adjustable top strap keeps boots snug
Close, comfortable fit
Break-in easily
Handsome Mossy Oak Infinity camo pattern
Advanced scent technology keeps your feet fresh for hours
Things We Didn't Like
Imported
Can be hard to take off
Pull-on handle openings can allow the brush to fall into boots
As long as you don't mind wearing a knee-high boot, it's very likely that these LaCrosse Adder Scent Snake Boots may just fit the bill for you even if you rarely ever encounter snakes.
---
Our Favorite Hunting Boot of Them All
As you've already seen, it's very difficult to pick one hunting boot for every occasion since there are so many variables involved in each different hunt. Still, if you were seeking a single hunting boot that could perform best in the widest range of conditions, you'd have a hard time beating the LaCrosse Adder Scent Snake Boots. Why? Here's our rationale for naming these the best-hunting boots of them all:
The excellent fit and quick break-in period is exactly what every boot owner desires. Of course, each person is different, but generally speaking, the snug design of these boots offers exceptional comfort – even if they can be a bit tricky to remove.
The advanced scent technology is a great bonus for these boots. As most hunters know, hunting for hours and even days at a time in the same boots can make for some foul-smelling feet. Anything that can keep hunters' feet feeling and smelling decent deserves attention.
Obviously, the tough, anti-snake feature is huge. Although like most snake boots, these boots are on the stiff side, the benefit of foot safety is well worth it.
Although they aren't advertised as such, many hunters appreciate the waterproof nature of these boots.
While these boots aren't cold weather boots per se, it's easy to purchase them a bit large and add plenty of layers underneath to keep warm even in winter. Especially if you're moving, these boots should be plenty warm enough for many hunters who don't live in the extreme north.
Of course, each of these boots has its place. By understanding the requirements of each potential hunting scenario in which you may find yourself, you can have a much easier time deciding exactly which boot is right for you.
We hope you've enjoyed these hunting boots reviews. Whether you spend your hunting hours trudging knee-deep through snow or plunging into stagnant swamp water, it's very wise to understand the differences in boot types before you decide which to buy. Always remember: For hunters, wisdom is more important than weapons or boots. Happy hunting!
For more information discussing which type of boot best fits which hunting scenario, check out this helpful video.
​